Documentation:
Custom components
Add a slider component
Inside a slider add a section (this will be our single slide) and inside add a single section item. In the Section Item configuration you can add a background image. Select 'Image (CSS)' and choose a path to the image.
In a section item add Column Layout Block component.
Place text-media component to the suitable columns
To achieve 'center' layout please add 'center' class to a Section
To achieve a view with image wrapping to the right side (https://app.zeplin.io/project/5d0c81a3587bc27037495bca/screen/6005992d07514d17bc8286a6) go to text&media component configuration in the first column, add a 'desktop-button' class to it and a button Item, then go to the text-media configuration in the second column, add a 'mobile-button' class, add a button Item and drag it to the top of the list.
How to create a single resource?

Go to a directory where you want to have your resources (i.e. home/patologias/cancer)

Create an empty page called "Recursos" and inside add an empty page

You can also copy a complete solution from https://author.opentemplate.prod.opengarden.rch.cm/sites.html/content/websites/roche-pacientes-2/es/home/recursos and rename.

If you copy-pasted the solution move to 'How to add resources to a page?'.
Inside the empty resource page add a text-media component with an Image item, Headline and a Button in which you should paste a link to the related PDF.
Add content to items
How to add resources to a page?
Add a Content List component.
Inside the component 'configuration' tab add 'resource-library' class and check 'pagination', set items per page to 3.
Go to 'Content Source' tab and change it to External. Underneath click "Add field" button and use the path of the resource source.
IMPORTANT
By default the component automatically inserts PDF cover into the text&media image, so If leave text&media image empty and add link the button to PDF.
Component behavior: Displays 2-sided content box. When user clicks the box it shows the other side.
Setup guide:
Add Section component with a class 'flip-card'

Inside the section add 2 section items, each one is a side of the flip card.
Fill section items with desired content, you can also apply a background by adding a 'background-"color"'.
Flip cards can be nested in columns, if you choose to do so you can apply 'flip-cards' class the columnLayoutBlock component to add top and bottom spacing.
Component behavior: when user clicks an anchor, a browser scrolls down to a sectionItem with a corresponding id.
Setup guide
Add Tabs component
Inside it create Tabs items, fill all of the required fields and add content inside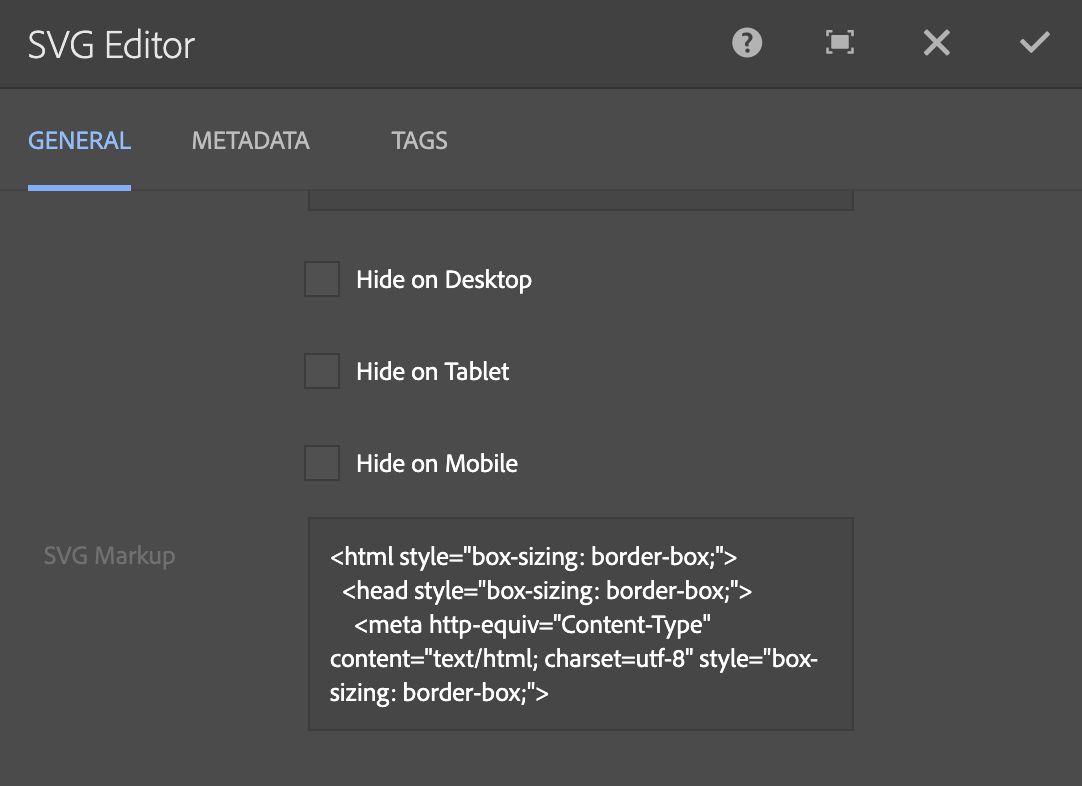 How to add custom HTML?
For injecting custom HTML into our website a component SVG Editor comes in handy. To use it, simply grab beautified HTML content and paste it into SVG Markup field.
To beautify HTML you can use online open-source tools i.e. https://codebeautify.org/htmlviewer

#6a7177 - battleship-grey

#c5c9cc - light-blue-grey

#dbdddf - light-periwinkle

#fef5f1 - very-light-pink

#132c47 - dark-slate-blue